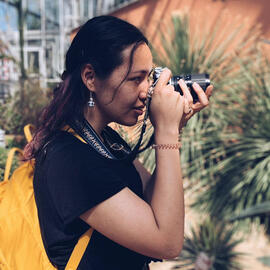 Marichelle Crick
Photographer and Illustrator
---
Hi! I'm Chelle.
I'm a freelance photographer and illustrator based in London, UK.

Currently available for commission work.
For commission T&Cs, click here.

Interested? Get in touch!
Below are some examples of the types of commission I offer. This is by no means an exhaustive list, so if your request doesn't match one of the below, please feel free to enquire!
Quick Sketch
A loose sketch of a single chosen character on a simple solid-colour or textured background.

This can be helpful for starting a character concept or a brief, simple visual aid for something like a story, YouTube video, or D&D campaign.

Details listed below are available for an extra fee:
Extra Characters

Detailed Background

Sketch Cleanup

Basic Colour Layout
---
Twitch Emote
A single digital emote suitable for use by Twitch Affiliates.
Bundle offers for multiple emotes available on request.
---
Profile Banner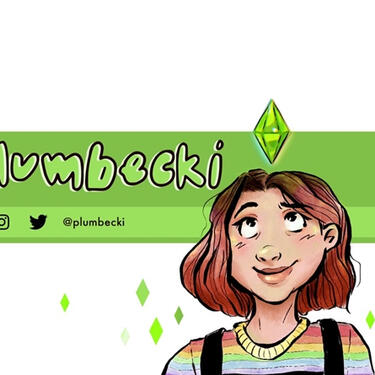 A personalised banner image for social media profiles. When selecting this please let me know if you have a specific website you want this for, as it will affect the resolution size and safezones used. By default this is for one (1) character only.

Details listed below are available for an extra fee:
Custom Text - Handwritten or Font

Extra Characters

Background Details
---
Full Colour Illustration
A full colour portrait of one (1) character on a plain colour or textured background.

Details listed below are available for an extra fee:
Extra Characters

Detailed Background

Complex Elements (such as weapons and armour)
---
Commission Information
As I have a full-time job, commission slots are limited, and depending on complexity they may take anywhere up to a month or two to complete, or I may have to turn it down if I don't think I'll be able to complete it for you in an appropriate amount of time.

Click here to learn about the different types of commission available!

Terms and conditions are available below.
Please read the terms and conditions carefully before submitting a commission request.

To submit a commission request, please use this Google Form.

Thank you for your understanding!
[Last updated: January 2021]
---
T&C

A rough draft is provided to the client for free. During this time changes can be made to the design up to a maximum of 3 times. The project can be cancelled at any point during the drafting process with no charge.

The rough draft will be approved by the client within the 3 modification limit, at which point a final quote will be agreed upon. If there is a specific deadline for the project, it should be declared and agreed upon during the quotation process.

50% of the finalised quote will be requested up front, to be paid within 15 days of requesting. Work will not begin on the final draft of the project until this first payment has been received. If the client wishes to cancel the project during this time, the 50% first payment is not refundable.

Should the project become delayed due to unforeseen circumstances, and it looks likely that the deadline might be missed, the client will be informed at the earliest possible time. Renegotiations of deadline or cost can be made at this point. In the unfortunate event that it becomes necessary to cancel the project entirely, the 50% initial payment will be refunded to the client in full.

If a deadline for the project has been specified, once the final product has been completed a low-resolution proof copy will be sent to the client on this date. If the project is completed before this date, it may be sent sooner, but this it not guaranteed. If no deadline has been specified, the proof copy will be sent to the client once the project has been completed.

Final payment of the remaining 50% of the full cost will be requested when the proof copy is delivered to the client. Payment should be made within 15 days of the delivery date. Once the final payment has been made, a full-resolution final copy will be sent to the client. The final copy will not be sent until the payment has been received.

Commissions are for personal use only, and are not to be used for commercial use or profit unless agreed before the project is started. If a commission was originally created for personal use, but after completion the client would like to change to a commercial use, this must be agreed upon before using it.

The client is free to share the art for personal use on social media if credit is provided clearly within the content (i.e. in the main tweet, not a threaded reply, or clearly in the first part of an instagram caption, not hidden at the bottom or in the comments). Artwork can be printed out for personal use only.

Completed artworks and in-progress shots may be shared to my social media accounts. Please let me know if you do not consent to this.